Special Events
Our school choir represented us at a concert in Durham Cathedral. They made us proud by behaving impeccably and by singing beautifully. The concert was part of the Durham Outreach Programme and the children had begun rehearsals some time ago with Mrs. Wood, Miss. Betts and Miss. Ingoe, as well as additional sessions that were led by singers from the programme. The children learnt lots of different songs, some of which had tricky parts to sing!
On the day of the concert, it was all systems go. In the morning, the children sang in a long rehearsal with all of the other participating South Tyneside schools and then in the afternoon they sang in front of family and friends, even the Mayor and Mayoress were there.
As well as singing their rehearsed songs, the choir also had the opportunity to hear the Durham Girl Choristers and listen to the Cathedral organ. Everyone had a fantastic day and the choir were a credit to the school. Mrs. Weight-man was so impressed with the performance that she invited the choir to sing in Celebration Assembly which again, they rose to the challenge.
Well done to all involved.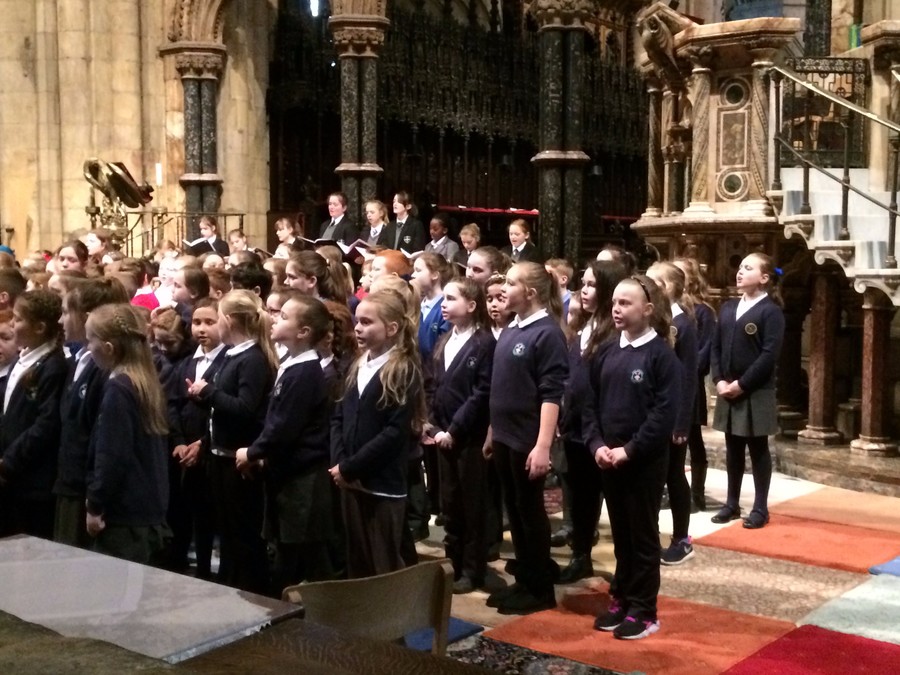 West Boldon Primary School has been lucky enough to be accepted to take part in a Nationwide Science experiment which will contribute to our knowledge of growing plants in space! Two kilograms of rocket (Eruca sativa) seeds were launched on Soyuz 44S on 02 September 2015 with European Space Agency (ESA) astronaut Andreas Mogensen and his crew, arriving on the International Space Station (ISS) two days later. British ESA astronaut Tim Peake has looked after our seeds for us for six months before they were returned to earth! Next term, we will be growing, monitoring and measuring the seed growth before sending the results off for analysis by British Scientists. If you would like to view a clip of Tim Peake with the seeds then visit the following website:
https://www.rhs.org.uk/about-the-rhs/blogs/news-blog/January-2016/seeds-in-space