Elf Night December 2017
Years 5 and 6 enjoyed a festive viewing of 'Elf' last night. Everyone snuggled down in their pjs and pillows and laughed their way through the hilarious film, while munching on treats of hot chocolate, cake and crisps. Merry Christmas everyone!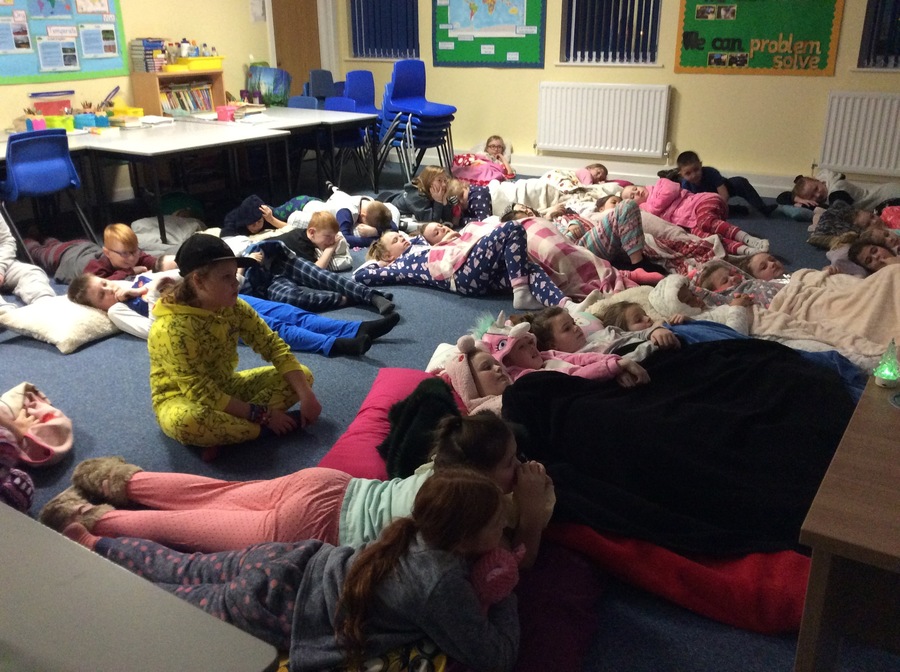 December 2017
KS1 were able to perform the songs from their Christmas play 'Lights, Camel Action' at St Nicholas Church in Boldon.
Father Raymond thought our singing was beautiful and said that the songs sounded like different dances could match them. We talked about the characters in each song and how they played a part in telling the Christmas story.
Choir Christmas 2017
The Choir have had a busy few days. On Wednesday evening, the children took part in Carols Around the Tree. We sang with the audience and brass band and even performed an unaccompanied version of Merry Christmas Everyone. Even though it was very cold, the children were fantastic and sang wonderfully. Yesterday, the choir were invited to sing at the newly refurbished Storybook in Boldon. After walking there, the choir sang a range of Christmas songs from their repertoire, entertaining the diners and Storybook staff. Once the children had sang fantastically, they had an extra treat. They had a play on the soft play area and had a visit from Santa.
Civic Carol Concert Dec 2017
The choir have been working extremely hard this term working towards the Civic Carol Concert at Temple Park. The children have shown real dedication and commitment to learning the songs; practising at every moment and attending extra rehearsals. This hard work really paid off as they were absolutely fantastic singing in the concert on Monday night. The children sang alongside 7 other choirs from schools across South Tyneside as well as performing a solo item 'Merry Christmas Everyone' to an audience of at least 600 people. They also had the opportunity to listen to and sing with South Tyneside Orchestra. The choir behaved impeccably and their performance was amazing, you could really see how much they enjoyed the experience. We are extremely proud of them all, well done West Boldon Choir!
Pantomine 2017
On Friday 8th December Key Stage 2 went to watch The Lambton Worm at the Custom's House in South Shields. We loved the show and had lots of fun cheering and laughing along, singing and of course booing the baddie!